"It is healthy to be reminded that the strongest might weaken and the wisest might err." ―Mahatma Gandhi
Meet Samson. Young, strong, good-looking, overconfident. Made for greatness. But he also had a knack for trouble. He was the ladies man, couldn't resist a girl. His sense of humor wrecked many things, including his own wedding breakfast. He couldn't control his temper – his anger often leading to death and destruction. He was stubborn, so he closed his ears to good advice and ended up making such dumb blunders as to marry the girl who was to betray him and get him deeply humiliated. Samson would easily be the baddest boy in the Bible.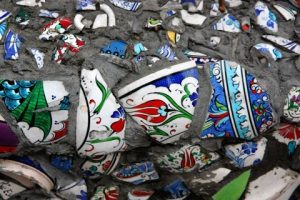 Ever stared at your own life and thought: Gee, this is messy! You looked around and all you saw was squandered potential? Wasted talent, dumb mistakes, altered destiny. Perhaps arising from bad choices or poor judgment?
Each time I read the Samson story, recorded in the book of Judges, I see myself in the mirror: a flawed life, full of mistakes and deficiencies. Sometimes, I've detoured and taken the wrong paths – turning my very strengths into weaknesses, expending my opportunities, and nullifying my potential.
Being flawed or getting our lives messy – whether caused by our own mistakes or not – is hardly the problem. Failure, blunders, misjudgment, and digressions are part of life. Flaws and all, what really counts is the attitude with which we face our imperfections:
Are we big enough to admit our mistakes and failures?
Are we smart enough to profit from our mistakes and failures?
Are we strong enough to correct our mistakes?
A friend from across the oceans wrote to me about a year ago: "I love spring… when everything revives, grows anew, thrives. May it be so for you in your every endeavor."
Her words remind me that no matter how flawed we may be, today is not too late to start anew, to put our lives back on track, to make our life count. We don't have to keep holding onto fragments of the picture of our once wholesome life, we can put the pieces together again and construct an even more exquisite pattern.
Born in Brooklyn, New York, Vince Lombardi remains one of America's greatest coaches. During the height of his coaching career in the 50s and 60s, he became the national symbol for single-minded determination to win. I leave you with one of his most profound thoughts: "We will chase perfection, and we will chase it relentlessly, knowing all the while we can never attain it. But along the way, we shall catch excellence."
Flawed and feeling awful about it? Oops! It's normal. Go easy on yourself and keep pressing on. You've got the seed of greatness in you, and grace abounds.
I hope you flourish.