"It's never too late to be what you might have been." —George Eliot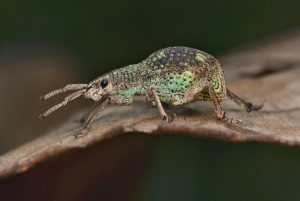 One of my colleagues recently told me the amazing true story about the State of Alabama, boll weevils, and peanuts.
The boll weevil is a small variety of beetle. It is a voracious pest. It nests in the boll, the seed capsule of cotton, ravaging the crop. It is the cotton farmer's worst nightmare. Boll weevils first entered the United States from Mexico through the Rio Grande in 1892. They reached Alabama, a cotton growing state then, in 1909. By 1916, the boll weevils had infested the entire state.
Farmers tried to curb the weevil by spraying absurd amounts of insecticides. The bug developed resistance. The farmers tried controlled burning of the crop. That too didn't work. In frustration, they changed the planting season. But that too failed. The "wave of evil," as it was described, devastated the state's economy.
Hundreds of landowners were forced to sell their land cheaply. In what is known as the Great Migration, even more tenant farmers and workers left the state in search of employment elsewhere. Coupled with the Great Depression, it was the "end" of the southern way of life. So it seemed.
Amidst fear, panic and pessimism, some progressive thinkers suggested that it was possible to escape the devastation brought by the boll weevil. Former slave, George Washington Carver, a renowned scientist and agricultural innovator, was one such reformers. He pushed for peanut-based crop diversification since boll weevils have no interest in peanuts, and, after all, Alabama's climate is perfect for growing the crop.
With George Washington's crusade, peanut growing and processing became a lucrative industry. The economy of southern Alabama flourished, ushering in a new level of prosperity. On December 11, 1919, a monument in honour of the boll weevil was erected in Enterprise, Alabama to celebrate the region's new prosperity. The first time an insect was given such high honour.
Life doesn't always serve us with perfect events, right? Actually, it's often quite the opposite. We meet super-sized giants everyday. Eyeball-to-eyeball. The kind of giants that swagger and strut around us scornfully. Our business fails, or is in decline. The company we work for downsizes during an acquisition or merger. The economy melts down. We're faced with crushing debt. Someone inflicts deep pain on us. An event brings our whole world tumbling down. We try our best, but the "boll weevil" continues with its devastation. Our self-esteem takes a beating. We sink in the valley of despair.
When faced with challenging obstacles, the logical part of our brain tends to shut down. We're unable to think clearly. We lose the ability to solve problems, make decisions, and think rationally. We get emotionally hijacked. We focus on ourselves, the giants against us, our inadequacies – the things that aren't working well. We sit, wallow in self-pity, and reminisce about the bygones. Or we run to where we think the grass is greener.
Have you tried everything and still no success? Sometimes, our opportunity is wrapped up in the very obstacle we're up against. Human beings are remarkably resilient. Much more than we think. We can muster the necessary courage to face any giant. Or let go what's not working, opening ourselves to new possibilities, new beginnings. It's never too late to set a new goal, to dream a new dream, or to start over again.
It's time you found your peanut. I hope you flourish.
Copyright ©2018 David Waweru. Photo credit: Boll weevil by Leong9655/shutterstock.com; Photo of person jumping courtesy of Shutterstock.